We're destroyed. They have been days of a lot of work. As you know, a huge rimaye made us change our plans and that has made the climb very difficult. But it was worth it. The peace of mind that gives you having done an incredible job like the one we have done is very comforting. In addition, on a new route. Few more satisfying things like this one, really. The immensity of the place, so white and silent, the 'mushrooms' and 'popcorns' that we have found up there… it has been beautiful. We have suffered a lot, but we have enjoyed it much more. I am very proud of the team. Everything we have done is exciting. We can see the north peak of Manaslu very close! We have equipped almost up to 6,700 meters and we brought up quite all the necessary equipment for summit attack.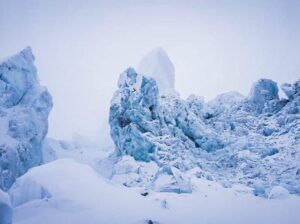 We had to equip the route for 3 intense days. It was new to us. We believe that no one has ever climbed it. In the absence of information, Chhepal, Kalden, Namja and I had to work hard to equip it little by little. Step by step, but without rest. We equipped much of the track between the four of us. On the other hand, Iñaki was in charge to carry up two good material cargos and Simone, Tenzing and Gelum equipped 350 meters of rope, from 6,325 meters to 6,450 meters. They continued what we started. Simone has also done an important job bringing up the rest of the material needed for summit attack to 6,650 meters. A 20 kilos backpack, almost nothing.
They have been days of many ups and downs. We even think about having to turn back to Bilbao at some point due to the difficulties we has. That rimaye could have been decisive, but we overcame the obstacle. With sacrifice, commitment and a lot of desire. But, above all, with a tremendous psychological work. The mountain forces you to do it, and I think we have far exceeded it.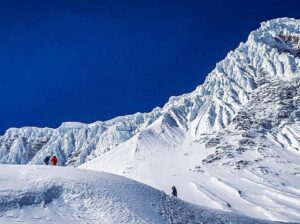 Now it's time to rest for a few days. But as weather permits, we are going up. We are quite optimistic and I think we made a lot of progress. The next step will be tough. Very hard. And, again, the mountain will test us. As it always does. But we are prepared.