Days before the honor kick in San Mamés, some friends told me that they had thought about what it feels like down there, on the grass, in the green of the Cathedral.
Now, after the post-match hangover, I can tell you about my experience. I will not deny that the previous days I was very nervous. I was quite tense and thought at every moment: What am I doing there! After Athletic's bad run of results in the league, people will want to watch the game, not me kicking a ball with great difficulty. Hopefully I don't stumble or hit someone with the ball as occasionally happens. And, if I slip and am remembered for it?
By the way, speaking of being recorded, there in the middle of the field many things crossed my mind. Your heart beats vigorously and speeds up when you approach the stairs that lead to the pitch. It was just at that moment when countless stories woke up in me. Anyone who knows me well knows that my head is always working, houghts mix with feelings.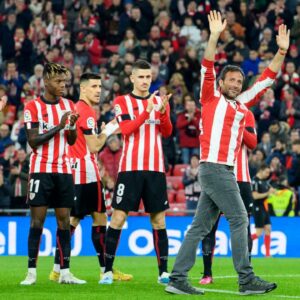 It is in one of those moments, in which 3 different people with three different lives run through my head. They did not get to know each other, but, I am sure, they have a lot in common.
Thanks to the Matia Foundation, I was able to meet Boni, such a good man that, not to bother, he didn't even open his mouth, but he always gave you a smile. When I last saw Boni at the Rezola residence and he hugged me, I felt such kindness and gratitude in that gesture that I will never forget it. That man was so loved among Matia's staff, that just by looking at people you could perceive the affection they professed for him, as much as in the last words he said to me: "With friends like you at the end of the world, without lose the smile.
Last Friday after enjoying a beautiful welcome, I went through one of those places that spreads happiness naturally. In this case, it is the Donosti Aquarium that has always made me experience very special moments. I remember Xabi and Ariane with special affection in the showings of the last films in which we have participated. Ariane always gave her smile, both to the boys and girls when they celebrated their birthdays, and to us when she let us eat what the childs had not finished. She was one of those very special people who had everything to give to others, and in the end, she didn't even leave time for herself. He never lost his smile.
And finally, a few days ago I read in the media that Juanjo, a shopkeeper who sold eggs and honey on Tívoli street in Bilbao, had died. Neighbors and customers from the area had come to pay tribute to him by lighting candles and saying goodbye with messages or drawings full of tenderness. I didn't know Juanjo, but surely, like Boni and Ariane, he would be one of those people with an affable character.
In short, it does not matter if you are a supermarket cashier, street sweeper, professional footballer, bricklayer or mountaineer. Whatever your profession, above all be a good person and remember that with a smile you will go further than with a bad gesture.
And yes, between beat and beat my first time in San Mamés also came to mind, as well as friends and family who are no longer there. It is a moment in which you feel infinite gratitude towards so many people who are always there when you need them. Thank you very much, sincerely.
However, I would like that instead of remembering Alex Txikon kicking the ball or as the mountaineer of the 8000, they would simply remember me as Alex, a person who tries to never lose his smile and enthusiasm and as a person who strives every day, in doing good without looking at who, just like Boni, Ariane and Juanjo did.