We quite had it. It was close. We could almost touch it with our fingertips. But no, we have not been able to ascend to Manaslu. Some could consider that we have failed. Nothing could be further from the truth. We are very satisfied with the work done. And I'm not saying it to look cool. It's something that I really feel. I leave with a big smile and with the calm of having done everything in our power, with cool mind to make the decisions that made us return alive.
This is not like a football game, in which some win and others lose. The only time you lose in the mountains is when you don't come back from above. And this year, unfortunately, we had too much of this. I am so sorry that friends and colleagues didn't return home… It is the worst side of this wonderful sport that keep us so hooked. Too expensive the toll they had to pay. May they rest in peace. The world is a sadder place without them…
We have accomplished so many things throughout these unforgettable weeks. In sports and personally. We managed to ascend to 7,100 meters in the middle of winter and on a never explored route. It was beautiful, but also tough. Very hard. On some occasions I admit we have pushed a little harder than we should have, but I know that if we were in the same situation again we would do the exact same thing. We carried up many kilos of material and we opened track with more than a meter of snow, covered by the white blanket almost to the waist. We knew what we were up against and, in a way, we came to that. And if it hadn't been for that rimaye we found between first and second camps or if the window of good weather had lasted a day and a half more… Well, as they say, "it is what it is". There will be time to analyze what we have done with more calm.
It has also been a great experience on a personal level. A fantastic group has accompanied me. I know that while I am focused on an expedition I can be more difficult to carry on. I keep focused and the machine in me comes out.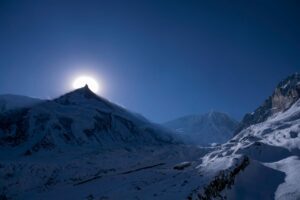 It has been a joy to go back to the mountains and first level mountaineering with a friend like Iñaki Álvarez. He really is a machine. A calm person, who never loses his temper, and who is always willing to give you a hand. The type of partner that we all want by our side when things go wrong. I have also learned a lot from Simone Moro, a top-level climber, and climbing comrade in several occasions. I will never forget how he mobilized everything he could on the day of Sergi Mingote's fatal accident. He told me about everything and I know he could not do anything more. Eskerrik asko to both of you for having accompanied me on this wonderful adventure. Surely we have many more to share.
I would like to say a few words to the wonderful group I had by my side at base camp. I am not going to list them one by one, because I would need almost one chapter for each and every one of them. Eskerrik asko to all of you. Your work at base camp made it possible for us to reach 7,100 meters.
And, of course, eskerrik asko, from the bottom of my heart, to all the sponsors who have made this 39-year-old kid enjoy this opportunity. I have done it in the best way I know, but in the mountains, no matter how much you prepare, you are at the mercy of the circumstances of each moment. It has been a wonderful journey. An unforgettable experience. Eskerrik asko!