Most of you will not know Iñaki but we have had the luxury of being able to share this project with him. Iñaki Álvarez, a Gipuzkoan from Zumarraga with a passion for history and archeology, is a calm, silent man. His humility is on par with the enormous illusion that he has put into this adventure from the first minute when Alex told him if he wanted to come to Manaslu with us. Iñaki had already been on expedition with Alex 20 years ago together with Jon Maroto and Xabier Ormazabal. Of the 4 who made up that expedition, only Iñaki and Alex are still alive.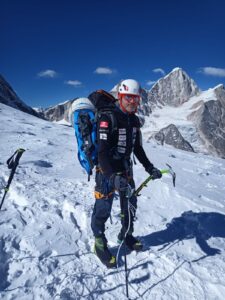 Just a few months ago he told us about the relationship he has had with the mountain throughout his life. Here we post a brief text he wrote us just a few weeks before leaving.
"The mountain is a passion that I have inside since my youth. This has led me to climb far mountain ranges throughout my life. I perfectly remember my first experience with "altitude sickness", it was on Mont Blanc on the Grands Mulets route in 1999, if the first day we went down dizzy the second we insisted on climbing to the top. That same year I saw a mountaineer die for the first time, he was climbing Hornli ridge to the Matterhorn. Later I also climbed the Lyon ridge to this same peak and many other routes such as the Mitellegui to the Eiger, the east spur to the Ober Torberg, Dent du Geant, Weisshorn etc.
In 2001 it was my first experience above 6000 meters, and the first time I saw frostbite, on my friend Jon Maroto's fingers, after coming down from Huascarán. I travelled to Peruvian Andes (Cordillera Blanca) and Bolivians (Cordillera Real) in different years to climb other peaks such as Toclaraju, Huaina Potosi or Illimani.
I visited the African continent in 2008 with my friend Koke Lasa to go to the Atlas Mountains, where we climbed several peaks, including Toubcal on the corridor route. But the top of that activity was the ascent to Biiguinoussene (4002 m) by a new route, which we did not see cataloged, and about which we did not give news. I'd say it was a D + grade.
My trip to Pamir in 2002 was quite an experience and a high mountain lesson that I will not forget. There I met Alex Txikon, and although we did not summit, our friendship lasts, so that is what I took back home from that great mountain.
Perhaps the top of my humble alpine career would be the expedition to Shisha Pangma in 2004, since we left aside the normal route to climb the central corridor of its north face, of a thousand meters with about 55º maintained, which led directly to the top . It was opened in 1987 and we entered that year after being first promoted by our friends Unai Pérez de Arenaza and Oriol Baró, who encouraged us to climb that huge ice slide".
Thanks Iñaki for being up there taking care of Alex and the rest of the team.